(Re) Introducing Songrender

Jake Lazaroff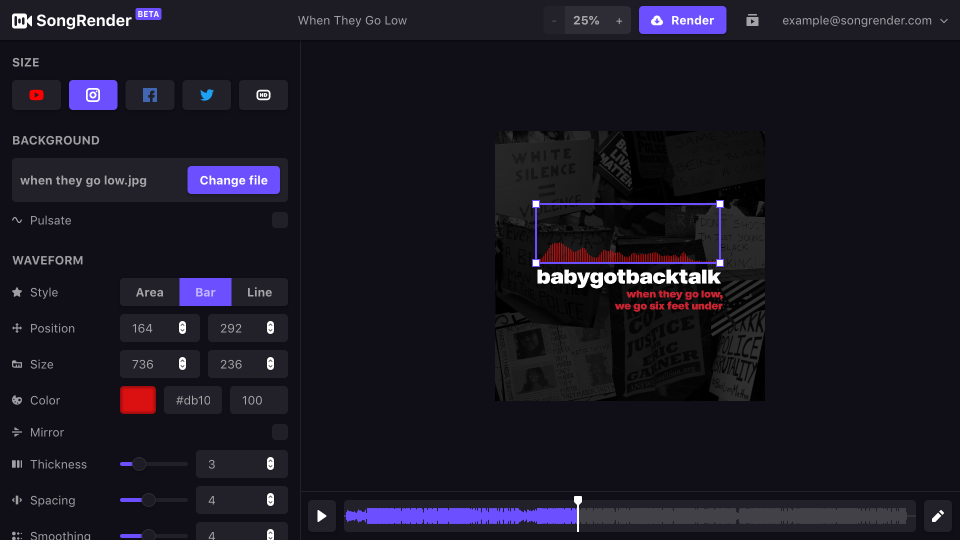 Looking at the changelog, you could be forgiven for thinking we've been twiddling our thumbs for the last six months. Not so! We've been hard at work on a huge update to SongRender. Virtually every corner of the app has been redesigned or improved in some way, and we're super excited to finally share it.
The previous SongRender was pretty spartan: upload your song and a background, customize your video a bit, and get a link emailed to you. That's about it. We released it like that because it was already useful to us, and it seems like people agreed — so far, there have been almost 250 videos created! But we were missing important features, such as the ability to come back to a video after you closed your browser.
The theme of today's update is saving your work. Before, you would have to take a video from start to finish without ever closing your browser. Now, you can sign up for a SongRender account. Any videos you create are automatically saved to your account, so you can work on them on your own schedule. You can upload files and reuse them in multiple videos. We've also added a bunch of smaller features, like undo and redo in the video editor.
We know SongRender is still missing important features like mp3 support, which is why we left the "beta" label on there. Expect to see us fill in a lot of these big gaps in the coming months. And if there's something you really want to see, hit me up at [email protected]!